Everything is all set. We already planned on what to serve as well as how we are going to rearrange our living room to accommodate about 40 people if those who confirmed will show up. We didn't have to worry about Branden's baptismal clothes too because he will be using his big brother's baptismal outfit. We only have to buy him a pair of white socks as well as a pair of white shoes. He will be wearing this below minus the hat because I couldn't find it anymore.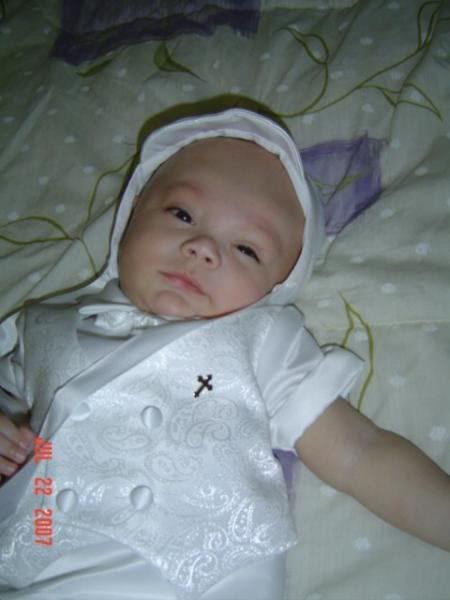 Frankie on his Baptism
Gloria and I had also went to party city to get decorations, so we are all good. The only problem I have is I do not have any decent outfit to wear so does Ryan. We may have to go to Kohl's to get the things we needed. Thankfully, mama and I were able to get out for a nice dinner last night and decided to go try on some clothes. We were having the employee appreciation weekend, so I was able to put some stuff on hold. I didn't want to try on clothes while with Ryan since we have to many places to be. I will pray that the weather will cooperate on Sunday. I just couldn't wait to get over this. I am just glad that mama is here. I don't know what would I do without her. It is not as stressful anymore with her with me every time I give away parties.